Exploring Hawaii
July 2012
Island Hopping, Surfing, and Waterfalls
Duration: 6 days, 5 nights
Island: Oahu / Kauai / Big Island, HA
Budget: $1500
Miles Travelled: 5,000
Day 1 – Ireland to SFO to Honolulu
Day 2 – Honolulu / North Shore / Pearl Harbour
Day 3 – Kaua'i Day Trip
Day 4 – Big Island – Botanic Gardens
Day 5 – Big Island – Surfing / Kona IM Course
Day 6 – Big Island / Oahu / SFO ( Red Eye)
 Day 1 – Ireland – SFO – Oahu

Day 1 – So this trip all started off in early July 2012 – just after I got married. After getting married on the Saturday and recovering on the Sunday, it was time that evening to finish off the packing and get ready to leave for Hawaii on the Monday. We had until the following Sunday to look around the Island and have a nice relaxing time at the location.
We decided to get all the travelling done on that first day .. Monday July 9th. We got a 7:30am flight from Shannon to London – touching down around 9am in terminal 1. We then proceeded to transfer over to terminal 5 where our flight was departing at noon with an onward journey to LAX in Los Angeles. The flight time duration was just over 10 hours allowing for time zone changes and the likes. We touched down in LAX at 15:00 hours and then had 3 hours to get through customs and security and make our way to the next gate for an onward flight.
We ate on the way over on the plane so we were not too pushed re food so we lined up with the rest of the tourists and locals and went through the security and luggage check. After getting through that we re-checked our bags to Honolulu and then went on to the terminal and our boarding gate. The flight was at 18:00 hours and had us in Honolulu International Airport just before 21:00 local time – there is a 2 hour time difference between the mainland and Hawaii. It took about 5 hours for us to get out there and get our luggage. We did not have any taxi or car rented on the island at the moment so we got a shuttle service to our hotel in the downtown area – the Outrigger Reef on the Beach. Be careful as to which service you choose here – we did not know any better and just walked out the front door and took the first service available to us – which in hindsight was not the best one. They took us to the wrong hotel at first and then finally dropped us off in our hotel room about 40 minutes after we were told we would get there. Generally that aint too long but when you have been travelling nearly 24 hours it is a long time. The biggest issue we had was how late they were when they came to collect us for a return journey to the airport – but more on that later!!!
We arrived at the hotel and checked in without any trouble and just decided to go to bed as we were tired from the day or travelling.
 Day 2 – Honolulu – Pearl Harbour – North Shore

Day 2 – We awoke on Irish time .. as we were want to do. I suppose that we were kinda excited to see a bit of the island and get our bearings. We got up after a few hours sleep and the sun was up and there were people surfing on the beach in front of our hotel as 7am… we walked out onto the balcony to see the view and get some fresh air. It was nice and refreshing. We showered and got ready and headed up to the car rental place  it was a few blocks from the hotel. We called into an IHOP – International House of Pancakes – on the way and got something to  eat. I think that we picked the wrong time though as there was a big crowd there and we had to wait about 20 minutes to get a seat and a bit more to get served. We got a good feed though so it was worth it in the end. We had decided to do day rentals when we were in Hawaii as the cost of over night parking was close to 50$ per night in most of the downtown locations – so it was not worth that – the cost of the car rental was approximately that for the day so it made sense for us to rent it for the day and just drop it back that evening when we were done with it. The jet lag started to kick in though when we got to the car rental location – I had left my credit card back at the hotel and brought my driving license and my wife had her credit card but not her driving license. Avis – and all other car renters  – would not accept the cross over of her credit card and my driving or vice versa so we had to go back to the hotel and get my credit card and then go back and get the car. So we finally got our hands on our first rental car of the trip – a VW Jetta actually . The plan was to go Pearl Harbour first and then sight see around the North Shore but after reading some reviews it was either get there early in the morning or later in the evening in order to avoid crowds. We opted to head away around the North Shore for a drive and stop for some lunch along the way and then come back via Pearl Harbour.We got a map off the people in the rental agency and also had the IPAD with me that had some maps on it based on the Navfree USA package. It worked out pretty well and saved us nearly 11 dollars a day for the rental cost of a GPS unit.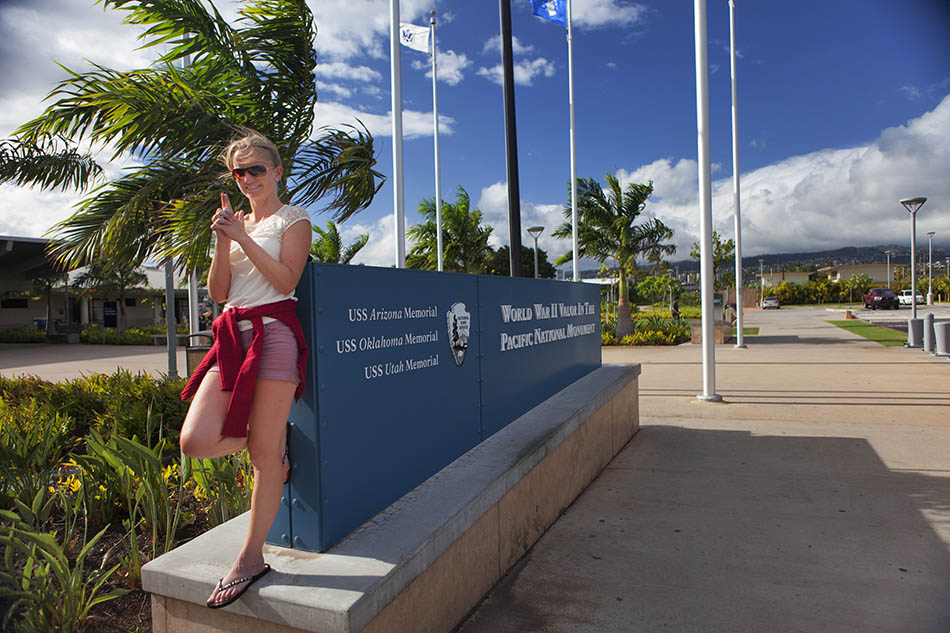 So we headed eastward first and then started to progress north along the northern shore of the Island – seemingly a lot of surfers frequent this area as there are good waves for them. We stopped at a subway – of all places – and got some sandwiches there to go – and then got back in the car and headed north some more. We came upon a wedding at one stage at a beach setting – it was a bit cloudy and overcast for them so nice wedding conditions for the photographer but not so much for the locals! It was windy when we were out of the car so I can see why surfers would choose that side of the island for early morning surf locations. We stopped around 14:00 hours and got our lunch and had a nice walk along the beach before heading on again to the top of the island and then made our way back south toward Honolulu. The car rental agency closed at 7pm so we had to be back in time for that or else we were going to have to pay for over night parking as well as take the car for another day. We got back to Pearl Harbour around 16:00 hours but we had just missed the last tour. Unfortunately we did not get to go inside though Photographers need to beware as security will not allow you to take a camera bag – or bag of any form – inside. They say you have the option to store your bag and gear in nearly lockers but who wants to put a camera worth a few thousand dollars/euros/pounds into a locker. There has been break ins reported re tourist rented cars that are parked in the parking lots outside so that was not too comforting either. And the security don't like you going in with two DSLR's hanging off you either – it is one camera so bring a zoom lens that will cover a wide range if you have it – as opposed to a 24-70 and a 70-200 say. They don't like making it easy eh. Here is some information that I found online that might be of interest
"Pearl Harbor and the USS Arizona Memorial remain top tourist destinations in Hawaii with over 1,500,000 visitors annually. The addition of the Battleship Missouri and the 1999 opening of the USS Missouri Memorial has further enhanced the importance of this historic area.
 The best time of day to visit the Memorial remains early in the morning before the tour buses arrive.
 The USS Arizona Memorial Visitor Center is open daily from 7:30 a.m. to 5:00 p.m. Interpretive programs, including a 23-minute documentary film about the attack and the boat trip to the USS Arizona Memorial, begin at 8:00 a.m. (7:45 a.m. in the summer). The last program each day begins at 3:00 p.m. The Memorial is closed on Thanksgiving, Christmas, and New Years Day.
 Allow 75 minutes for the tour. This does not include time waiting for your tour to begin. Use that time to enjoy the USS Arizona Memorial Museum or waterfront promenade.
Following the events of September 11, 2001, new security regulations have been implemented. No purses, handbags, backpacks, camera bags, diaper bags, or other items that offer concealment are allowed in the visitor center or on the Memorial tour. Strollers with pockets and compartments must be empty before being allowed in the visitor center. Personal cameras are allowed.
Baggage storage is available for a small fee at the nearby USS Bowfin Submarine Museum & Park and visitors are encouraged to use it. 
Visitors are strongly encouraged either to leave prohibited items at their lodging or lock them in their car trunk before arriving at the parking lot. Theft of items from rental vehicles is common in Hawaii, however, bicycle security patrols the USS Arizona Memorial parking lot."
Anyways we got some images at the location and then headed back to the car rental location to drop off the car and head back to the hotel. We walked around the city some then and grabbed something to eat and went to bed early enough – due to the  early morning start and the jet lag we were starting to feel it now. And besides, tomorrow we were off to Kaua'i to see the Island for a day trip!!
 Day 3 – Kaua'i day trip
Day 3 – We were up early because we had a flight to get at 08:05 in the morning. I can't remember the bus company that brought us in on the Monday night but we had already booked a return ticket with them so we did not know what we were letting ourselves in for. I had a missed call from them the day before at the hotel – they were looking to confirm the pick up time for us for the following morning. We asked them to come and collect us at 5:40am – it was every 30 minutes and it would take another 25-30 minutes to get out to the airport because of stops and locations. Anyways we were downstairs at 05:40 and there was no sign of the shuttle. There was still no sign of it at 06:00 or 06:15. I called the agency and they told me it was on the way. I explained that we had a flight – they said it was on the way and would be there in the next few minutes. It eventually arrived at 06:25 to take us to the airport. I asked the driver what took him so long and he told me that I was not one of his scheduled stops – he was re-routed from another pickup to collect it. I feel bad for the drivers cos they get a lot of crap but the company was really bad – once I get the name of them I will post it here so that you know to steer clear of them. My advice is to get a reputable company that will be on time and collect you or get a taxi. There were others on the bus that were in the same boat as us that morning. Anyways we got out to the airport and checked in and flew over to Kaua'i – approximately 30 minutes away. I had most of my camera gear in the bag with me – using a Think Tank Airport International – that I bought specifically for this trip. I had – and still have a -a MP1 – a Moose Peterson bag up to this for my 500mm lens. But I was told that it would not protect my gear adequately on the Alaska leg of the journey so I did some homework – and shopping – and got the Think Tank instead. Anyways our bags were ok for check in and it fit fine in the overhead bin – even though it was overweight 🙂 We landed and collected our car for the day and headed to Jack Harter Helicopter tours for our flight at 11am. I did some research before I booked with these guys and found their reputation to be good and the reviews excellent based on what I read. After doing the tour with them, I have to say that I was glad we went with them. We went up in the Hughes AStar 500 – with no doors. Again this was purely from a photography point of view…no glare when shooting out the windows as there was no doors. Another plus was the wind and air when you were flying along – whether it was along the Na Pali Coast or in through the canyons that are spread all over the Island. Approximately 80% of the island is inaccessible unless you are using a helicopter or a boat. Only 20% has road access and some of these are via 4×4 vehicles. We arrived 45 minutes prior to departure to get a quick safety briefing and then headed to the airfield where we were loaded onto the helicopter in a specific order. This had to do with the weight distribution of the passengers – to make the flight more enjoyable and safer for all involved. We spent an hour flying around the island and you don't feel the time going. Be sure to check out some of the images in the gallery below. After we landed and got back to the registration area, we headed off North West to the Koke State Park to see some on the lookouts that we had spotted from the air earlier – a different perspective.
Some research that I found online stated the following :
"A must see for all visitors to Kauai is the amazing Waimea Canyon. Ten miles long, two miles wide and 3,600 feet deep, Mark Twain nicknamed Waimea Canyon the "Grand Canyon of the Pacific." With its deep reds, greens and browns, each created by a different volcanic flow over centuries, many feel that is much more colourful than the Grand Canyon. The canyon itself was formed by the Waimea River as it cut its way from Alaka'i Wilderness Area to the ocean. Waimea Canyon is located in the western part of Kauai. Two roads make their way up to the canyon, both from the southern part of the island – Waimea Canyon Road (State Highway 550) from the town of Waimea and Koke'e Road (State Highway 55) from the town of Kekaha. Both have a number of viewpoints offering excellent views of the coast and the island of Niihau. My suggestion is to take one road up to the canyon and the other down. It will take 30-45 minutes to reach the first of several lookouts from which you can view Waimea Canyon. Be sure to stop at the Waimea Canyon Lookout, the Pu'u Ka Pele Lookout with its excellent views of Waipo'o Falls and the Pu'u Hinahina Lookout. Beyond Waimea Canyon, the highway enters Koke'e State Park and the Ku'la Natural Area Reserve. Koke'e State Park is over 4,000 acres with about 45 hiking trails some of which head into Waimea Canyon and some of which are short hikes to non-canyon overlooks. The Koke'e Museum is well worth a stop. The road ends at two lookouts for Kalalau Valley, one of the spectacular valleys along Kauai's Na Pali Coast. There are two lookouts for the Kalalau Valley, the Kalalau Lookout and the Pu'u o Kila Lookout which marks the beginning of the Pihea Trail which leads to the Pihea Overlook and the Alaka'i Swamp Trail. Weather conditions can make the road and trail very dangerous in this area."
 We stopped in a town on the way to the State Park and got some food for the journey and had a packed lunch up in the trail when admiring the views. It was pretty spectacular. Once we were done with the park we headed back to the airport to get our flight to Honolulu at 19:55 and then got a different shuttle service back to the hotel. There was a call phone inside at the baggage claim so we just picked it up and dialed their number and they told us to go out the exit, turn right and wait 5 minutes and someone would be over to collect us. They were, they dropped us off in the hotel within 25 minutes and found it first time and that was that. We walked around the downtown area some more and got something to eat before calling it a night. We were off to the Big Island tomorrow for a few days.
 Day 4 – Big Island / Botanic Gardens

Day 4 – So the original plan was to head out to the airport and leave our bags there in a storage locker for the few days that we were down on the Big Island… however we were told that the storage lockers were no longer there and working. It was a good thing that we checked into it when we were flying to Kauai the day before. Anyways, instead of leaving it at the hotel we decided to take it with us to the Big Island. So we packed all of our stuff up and checked in the bags. It cost us approximately 22$ to check each bag so it was not too bad considering. I am sure that a locker for two days might have been more expensive. Our flight left at 08:18 in the morning and we arrived at 09:08 into Hilo Airport on the Big Island. The plan for today was to spend the day with a pair of photographers that live on the island and do some shots and tours with them. I found them online via google searches etc. Their website is located here. Mary and Ken were the names of the photographers and they have been living on the islands and taking images for over 20 years now. The one thing that I did not do – and did not really know about – was tell them what I wanted to photograph. We ended up going to the Botanical Gardens and got some nice images – as well as got some nice mosquito bites 🙁 . You will need a tripod and some form of mosquito repellant – as well as some long sleeve clothes to keep the mossies at bay. We spent a few hours walking around the place and then it started to rain. It was not really a wet rain per say due to the humidity of the place but it would do damage to your camera gear if you don't have rain covers for them. We headed back to the car and drove around the island some more before going back to the airport and collecting our rental car – we picked it up a bit early and headed across the Saddle Road over to the other side of the island to Waikaloa – where we were staying for the night in the Paniolo Greens Resort – a golf course of sorts. We were trying to get across for the west coast for the sunset but alas that was not going to happen – we left it too late – so we captured this image when we were driving into the area and then just headed to the accommodation and checked in. Thankfully it was a fully furnished apartment with a kitchen and kitchen area. So we headed out to the local supermarket – that closed at 21:00 – and got to purchase some food that we ate for a late meal before going to bed. We did not have any plans for the morning so it was a case of taking it easy and resting up.
 Day 5 – Kona / Star Gazing Tour

Day 5 – We had nothing on the cards for today – the main plan was to go to Kona first off and do a surf lesson but when we headed down there – approximately 30 minutes drive from where we were staying – we could not locate the surf shop. We looked around for a bit but to no avail so we headed down onto the beach instead and chilled out for a few hours. It was nice and quiet and not too busy and sunny – what more can one ask for!! We headed back to the accommodation and went for a short run in the afternoon – it was very hot out and there was not a lot of options for us on places to go but we headed up the main road that we drove in on the first night – there was a bit of a hard shoulder and it was either that or head down towards the Queens Marketplace – so uphill to begin with or end – we choose at the beginning. We ran for about 45 minutes and then back to the accommodation and grabbed a shower and got ready for the Star Gazing Trip that we had planned for the afternoon. This was really cool and one of the main highlights of the week that we were out here – we both agreed on this. Once this was done we got back to the apartment and went to bed as the following day we were heading back to the main island of Oahu and hoping to catch a red-eye flight to San Francisco that night.
 Day 6 – Big Island / Oahu / SFO

Day 6 – We got up and did a short run before checking out and heading on our way. We decided to head back to Hilo via the Northern Route on the island and go the scenic way as opposed to the Queens Highway. We did our run in Kona and used the showers on the beach front to wash afterwards. They were cold water but it was nice as the weather was so warm when running that it was a great way to cool off after the run . Then we headed back some of the Queen's Highway where the legendary IRONMAN is on each October – and continued north past Waikaloa. We stopped along the way to have some lunch and then arrived at Hilo airport an hour early for our flight. We were lucky because Hawaiian Airlines had moved the flight time up an hour so we were fortunate to be back there and able to catch our flight. There was no communication via email to alert us to the change in schedule so we were happy to get on the plane and make it back to Oahu. We arrived in Honolulu International Airport and checked our bags in again for the San Francisco leg of the flight that was departing at 21:00 from Honolulu International Airport. Thankfully we did not have to change airports or terminals. We paid our checked baggage fee – approximately 45$ for the two bags – with a weight restriction of 50lbs per bag – and then went through security and got something to eat before boarding the plane and heading into the mainland for the next leg of the honeymoon.
Recent Travels
Be sure to check out our recent reports from the other trips that we have done around the world.
Duration: 10 days, 9 nights Location: Morocco, Africa Budget: $1750 Miles Travelled: 1970KMDays: 10Dates: 22nd March 2018 to 31 March 2018Tour Company: Morocco Round TripsCurrency: Dirham (10.7:1 exchange rate)Time Zone Difference : NoneMorocco Driving Distance :...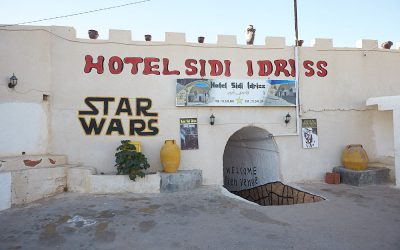 So this trip came about because the Tokyo marathon and Japan excursion was cancelled due to the Covid-19 or Corona Virus pandemic. We got notice approximately two weeks before we were due to travel that the marathon was cancelled so we set about looking planning an alternative destination – and that destination was Tunisia.
The Jedi Transition starts just west of Owens Lake at 36.403047,-118.01239. From here aircraft hug the desert floor and pull up just before the canyon to clear higher levels. From there they enter the Canyon at Father Crowley Point, and continue through the Valley and exit the valley 3 miles from Father Crowley point.