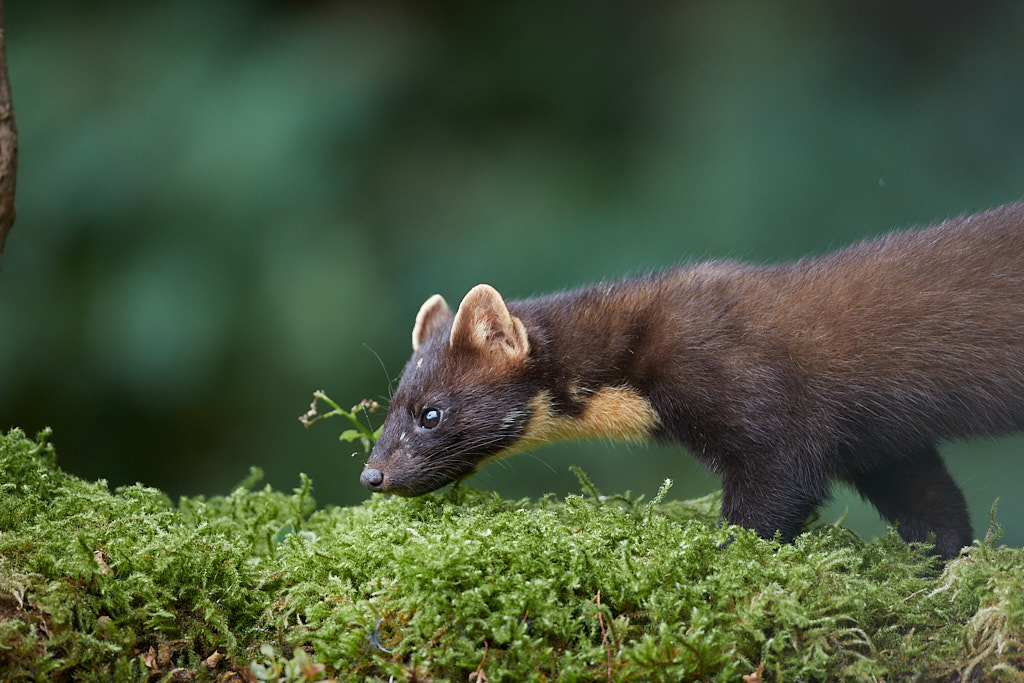 In August 2021, after coming back from a trip to Scotland to Alan's hides in Kirkcudbright, I heard about some hides a little closer to home in the woods near Ballyfin in Co. Laois. I reached out to the owner via Facebook and got a prompt reply re my questions – namely when there was time to get into the hides and also how much would it cost.
I was told that it would cost 70 euro per person per day to use the hide and hopefully get to see the Pine Marten.I agreed after chatting to Richard and organised a day and time to head up. I left limerick that morning around 06:30 and got up there for around 07:45 and met Richard and another photographrer that was using the hides for the day. We drove a few minutes to the parking area where we left the cars and walked into the hides. It was only a few minutes walk to the hide itself. Richard put out some food and showed us where everything was re the setup and then headed away.
The hide can be cold – even in the summer time due to the concreate construction – so it is best to have a few layers that you can adjust as you get too hot or too cold. Once the cameras were setup we sat down to wait. I used my tripod with a gimbal head and my 500mm fixed lens on it and through the other window I had a 70-200 for closer shots of the small birds at the reflection pool.
Overall it is a nice setup – I have antoher post coming showing distances from 100mm and 500mm so you know what to expect with regards to range. The steup is good and there are plenty of small birds constantly feeding in there as well as jays, magpies, crows etc. The pine marten did make a quick visit around 12:30 for around 5 minutes  – found the food that was hidden under stones etc and that the magpices had not alreadt taken – and then left again .
Below are the rest of the images from the vist – and while it was a short visit it was lovely to see a wild pine marten in natural day light during the summer. I will go back again to visit – thats for sure – and try out the other hides that Richard has in the area.
Richard has said that there was a sparrowhawk in the area and it did make a few attempts at catching some of the small birds but did not stick around any of the times it came through. The first few times it missed but on the final pass it did manage to catch a chaffinch and flew back into the woods.