So if you are lucky enough to be going to Antarctica then all I can say is "Well done" as I know that it is a place that few people will get to travel to in their lifetime. It is an expensive excursion and one that few people will attempt to take on. In fairness, there are easier ways to spend 10-15K USD right.
But enough of that – you are here because you are thinking "How much camera gear do I take with me" or "What camera gear do I take with me" on this Epic Trip 😉
Well I was lucky enough to get out here in December 2013 with my brother and all I can say it that we were really blessed with weather, travel locations and ship routes etc. I will fill you in on what I took on the trip and will hopefully write another article on the actual trip itself in due course.
So I am going to make a few assumptions here before going any further – namely that you are a Semi-Pro or Professional photographer or a budding up and coming photographer with a lot of gear and cant decide on what to take.
I found another article online this morning that relates to the bag that I took – a Guru Gear 32L bag. There is more information here on the bag and what is included in it. Nice light reading.
PDF Document on Equipment and Gear
 I created a document that I spliced together from several different sources on the Internet and books on what gear to bring. I was also fortunate enough to have some friends that headed out there in January 2013 – a main reason that we headed out there in December actually.
So what did I bring and what did I leave behind and what did I regret taking/not taking on the trip.
Camera Bodies
Canon 1D-X
Canon 1D Mark IV
Fuji Finepix X100
Go Pro Hero 3+
Lenses:
Canon 500mm f4 IS USM Mark I
Canon 70-200 f2.8 IS USM Mark II
Canon 24-70 f2.8 Mark I
Canon 16-35 f2.8 Mark II
Accessories:
Battery Chargers ( 1D-X/Mark IV, Fuji Finepix & GoPro)
Power Cables and adapters
Spare batteries
Memory Cards
External Hard drives x2
CIR Polarising filters (77mm)
Card Reader
Lee Filters – ND Grad
10 Stop BnW Filter
Tripod
Monopod
Wimberly Gimbal Head (for 500mm)
Rain Covers for 500mm and 70-200mm lenses
and other bits and pieces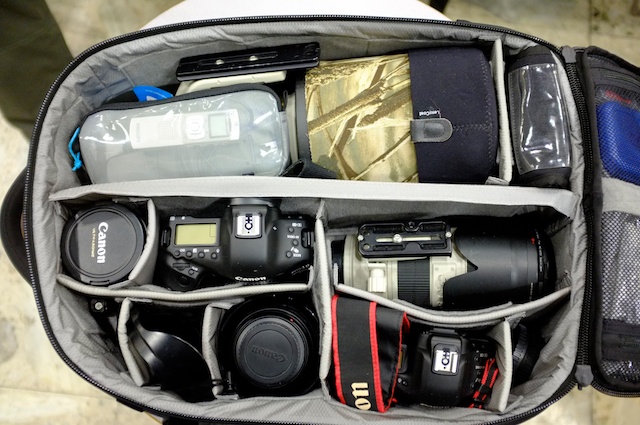 The majority of this gear went into the Guru Gear bag – as seen above. It all packed away nice and neatly and there was no problem anytime getting the bag into any of the overhead storage units on any of the flights. Weight wise it was probably coming in around 14-15kg in weight but I took a chance and hoped that it was not going to be weighed. If I had to pay at the airport I was willing to do that – safer than checking it in.
I did have another small padded day bag that I used when in the cities and walking around the place for sightseeing in Buenos Aires and Ushuaia. I put some of the cables and battery chargers in here and checked those in as they were safe enough and I would be ok if they did not make it down for a few days.
So here are some questions that I think might be of interest to people that are traveling and hopefully the answers will help you decide on what to bring and what to leave behind. Again this is just my opinion and what worked for me at the end of the day – it is not necessarily the best or worst idea out there – it is just an opinion.
Q: Do you really need a tripod? 
A: I think that a light one is useful. There was two of us and we shared the use of it between us. On the boat I got a bit more use out of it that I thought. I used it a lot with the GoPro to just shoot timelapse or footage from different angles and aspects of the boat. We also camped so we got to use it then and also in Ushuaia. Dont bring a big heavy tripod – take some travel worthy and light and it should come in handy.
Q: Did you use the rain covers ? 
A: I did use them at the start a lot – just being cautious. We were really lucky with the weather. I took off the covers after a day or two as I did not need them any more. I also had a neoprene cover for the camera body but never used it. It is a good idea but the battery life is really good in the 1D models so I did not need it. It also makes adjusting settings a lot more awkward and if there is a humpback whale or leopard seal or penguin active near you – the last thing you want it try to change aperture or ISO setting through a cover and protective layer and then with gloves on. Pack them – have them there just in case but use sparingly. If the weather is nice then you are good. If there is snow out then take it with you.
Q: How many memory cards did you take with you?
A: Me personally I think I had nearly 200GB of memory cards, 4x32GB, 4x16GB and some 8GB SD cards and several 4GB cards. All worked fine for me for the trip and I probably shot close to 130GB of images or 5100 odd images in the space of the two weeks that we were away. We had a laptop with us, so we backed up the cards each evening to our external HD's and left the cards with the images also so we had a secondary backup just in case. Then on the last day we copied all the folders to the other persons HD so there was a third backup – just in case. All worked out nicely now thankfully.
Q:Do you really need a laptop?
A: I personally think it is a good idea. First you can use it to backup your images when you want. I know there are computers on the boat but they are in use a lot of time so access can be restricted. It is nice to be able to backup your data when you want. It is also a good idea to have some TV Shows or Movies with you to look at in case you need to pass the time on the Drake Passage or something – you might be under the weather and need something to take your mind off things.
Q:Did you use a CIR Polariser a lot ? 
A: Once we got down to continental Antarctica itself I did put it on the 70-200 and the 24-70 and used it for shots of the ice, water reflection and landscape shots. I think that it is no real weight to carry and it does come in handy when you are down there so take it and use it .